Custom Pet Portrait Pillow
Art Style: Modern (change)
Detailed artwork drawn from your photo by our talented artists. All pets welcome!
A custom pet portrait is the perfect gift for any pet lover!
You'll be sure to receive a top quality, non-damaged product - backed by our Guarantee.
We welcome all pets: dogs, cats, rabbits, birds, and even reptiles!
How It Works
Place Order
Select your options and complete your purchase.
Upload Photo
Select a good, well-lit, photo of your pet.
Artwork Preview
Approve or request changes.
Enjoy!
Wag your tail in excitement.
Photo Artwork
Our custom pet portraits are drawn digitally and based on the photo you provide.
Quality Artwork
Our artists are highly experienced in drawing pet portraits. This ensures you will receive a high quality artwork.
Pillow Details
Superior Quality
Durability, image clarity, and color accuracy are our top priority. Our inks are designed to hold up over time without fading.
Removable Insert
Every pillow comes with a zipper on one side to easily remove the insert and wash the cover.
Protected
Packaged to arrive safe without damage.
Questions Answered
How long until I see a preview of the artwork?
An artwork preview will be sent 3-4 business days after you upload your pets photo.
Can I request changes to the artwork?
Of course! We offer unlimited changes to the artwork.
Please note that this does not include new artwork from new photos.
How do I select a background color?
The background color is selected right before you fully approve the artwork preview.
Can you draw more than 1 pet on a single pillow?
Of course! We can draw up to 6 pets per pillow. This option can be selected while ordering.
Do you offer any rush options?
Please include our Express option while ordering to receive the artwork preview within 24 hours.
Customer Reviews
Write a Review
Ask a Question
08/10/2020
Mark B.
New Zealand
I recommend this product
STELLAR SERVICE
I had received a custom pet portrait pillow ordered by a family member from within the USA and we LOVED it that much, we wished to order another one. From the very first time I made contact, the service has been superb and hassle free even though we live in New Zealand. I have yet to receive my order but have no hesitation in recommending this company to anyone wishing to use their wonderful service. Kia ora from down under.
06/24/2020
Shannon S.
United States
05/30/2020
Karen W.
United States
I recommend this product
Fabulous Pet Pillow
I bought my daughter a pillow of her sweet dog Tico, a Pomeranian. She took a beautiful picture of him and I wanted to have it put on a pillow for her to admire every day! It's absolutely beautiful! I love it! She loves it!! Would definitely order again! You have to check a box to get the insert (pillow) added to your order.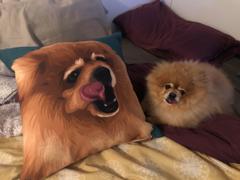 05/25/2020
Breanne M.
United States
I recommend this product
Just perfect
Purchased for a friend of mine who just lost her pet. Sent in a picture when purchasing, a day or so later they sent a copy of image which came out wonderful. Fast shipping. She adored the gift!
03/26/2020
Ruby F.
United States
01/23/2020
Scott G.
United States
I recommend this product
What a great idea... My whole family loved it...
I bought the pillow case out of impulse. Thought it was a cute idea and I was waiting for my wife to tell me why was I wasting my money. That didn't happen!! She was so excited and I made her day. My son then walk in and he too thought it was amazing. This will make a great gift for anyone or if you know of anyone that loves their pet. Thank you so much.
12/30/2019
Darcy H.
United States
I recommend this product
Amazing!!
We recently lost one of our dogs and I had a portrait and a pillow made for my 3 kids!Your beautiful and exceptional work made our Christmas! I have recommended your company to all of my family and friends!
12/24/2019
Geri C.
United States
11/12/2019
Joyce C.
United States
I recommend this product
Better than I hoped for!
I received my pillow and it's adorable and fantastic quality! The picture is on both sides and the material is heavy quality. I love it so much I bought another one of our dog for my son (the first pillow was of my daughter's dog). I also ordered a canvas of my daughter's dog and it is awesome. I've been showing family and friends the canvas and everyone thinks it's great. I can't wait for Christmas to give them their gifts!
09/19/2019
Annalie E.
United States