Custom Pet Portrait Canvas
Art Style: Modern (change)
Detailed artwork drawn from your photo by our talented artists. All pets welcome!
A custom pet portrait is the perfect gift for any pet lover!
You'll be sure to receive a top quality, non-damaged product - backed by our Guarantee.
We all love our pets! Show off that love with a custom pet portrait canvas.
Our modern art style will capture all of your pets beloved details and become the center piece of any room.
We welcome all pets: dogs, cats, rabbits, birds, and even reptiles!
How It Works
Place Order
Select your options and complete your purchase.
Upload Photo
Select a good, well-lit, photo of your pet.
Artwork Preview
Approve or request changes.
Enjoy!
Wag your tail in excitement.
Photo Artwork
Our custom pet portraits are drawn digitally and based on the photo you provide.
Quality Artwork
Our artists are highly experienced in drawing pet portraits. This ensures you will receive a high quality artwork.
Looking for another artwork style?
Canvas Details
Superior Quality
Durability, image clarity, and color accuracy are our top priority. Our inks are designed to hold up over time without fading.
Solid Front
Every frame is built with a solid face to keep the canvas from deforming and loosening.
Ready to Hang
Pre-installed hardware so you can hang your canvas immediately.
Sealed Back
No staples. Perfectly clean look. Every canvas comes with a sturdy black backer board.
Perfect Corners
Super tight corners with no bulge. A uniquely professional finish.
Protected
Packaged to arrive safe without damage.
Questions Answered
How long until I see a preview of the artwork?
An artwork preview will be sent 3-4 business days after you upload your pets photo.
Can I request changes to the artwork?
Of course! We offer unlimited changes to the artwork.
Please note that this does not include new artwork from new photos.
How do I select a background color?
The background color is selected right before you fully approve the artwork preview.
Can you draw more than 1 pet on a single canvas?
Of course! We can draw up to 6 pets per canvas. This option can be selected while ordering.
Do you offer any rush options?
Please include our Express option while ordering to receive the artwork preview within 24 hours.
Customer Reviews
Write a Review
Ask a Question
10/21/2020
Kathy A.
United States
I recommend this product
Kitty painting
I am very pleased how nice this painting turned out! So life-like. Thanks again!!
10/11/2020
Carol C.
United States
I recommend this product
Super nice
I really love it the job ... well done it's was a very nice for a gift .
10/09/2020
Alex S.
United States
I recommend this product
ilovepaws has incredible artists who do a fantastic job of bringing your connection with your pet, to art form
10/08/2020
ART A.
United States
I recommend this product
It's was a 5 star reaction
My friends dog recently passed away. I was trying to think to myself what is the best way and most sentimental type of gift I could get her. I was referred to I love paws from a friend of mine who got their dogs pictures on canvas. She said it was amazing so I decided to go with a canvas medium sized and when I gave it to my friend for her birthday the tears were flooding and she couldn't believe how uncanny it was to her dog. So overall I would use this company again and definitely recommend them.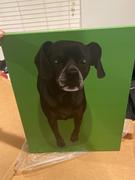 10/08/2020
Natalie S.
United States
I recommend this product
Love My Pictures
I first got one of my dog 2 years ago and then got a new dog this year. Well, of course I needed to get one of my new dog too! iLovePaws was so easy online. The artist were able to make small changes for me, like removing a collar, since my other one didn't have one on. What really surprised me was that they automatically changed his eyes to look forward. When I submitted the picture I was already wishing that he was looking at the camera, but just figured it was the best I had. Amazing work. Thank you for capturing my babies perfectly!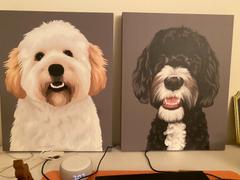 10/03/2020
Rebecca B.
United States
I recommend this product
A wonderful portrait
The painting is beautiful and high quality.
09/20/2020
Shaby T.
United States
09/20/2020
Kelly H.
United States
09/19/2020
Melissa R. Schwebach
United States
I recommend this product
Incredible
It looked perfect! I love it. It's my third time purchasing...never disappointed!
09/17/2020
Sydney B.
United States